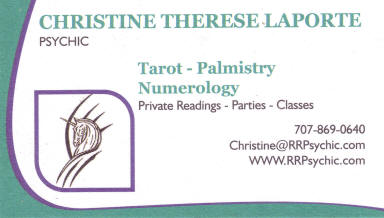 The Russian River Psychic's
Links to Friends on the Web:
These are in no particular order other than being alphabetized where possible.
Each link WILL OPEN A NEW WINDOW if your browser allows.
If not, you will have to right click and "Open in a new window".
There are no ad's, pop-up annoyances or traps on this web page.
While we prefer that you allow pop up's here, you should be careful
of where else on the web you do so.
Listen to internet radio with Wggm on Blog Talk Radio

Curretnly WGGM is on hiatus, currently you may listen to archived shows. With live broadcasting to resume in January 2012.
If you would like to be listed, please e-mail a request.
Close this page to return to the previous page.
Home Biography Numerology Tarot Radio Palmistry Parties By Phone In Person/Schedule Health & Numerology References Articles Links
E-Mail Christine-at-RRPsychic.com (Replace the "-at-" with "@")
Copyright © 2006-2008. All rights reserved.
This document may not be copied in part or full without express written permission.